The group of brothers was known as the "A" Boys when they were very young. As they grew older, they called themselves, A-Boyz. Recently, in lieu of their maturity of age, the group has changed the name to A-7. The "A" is acknowledgement of their unique names, which all begin with the letter "A." The "7" represents maturity. In addition, there are six members in the group. The "7" acknowledges the presence of the Lord in all that they do.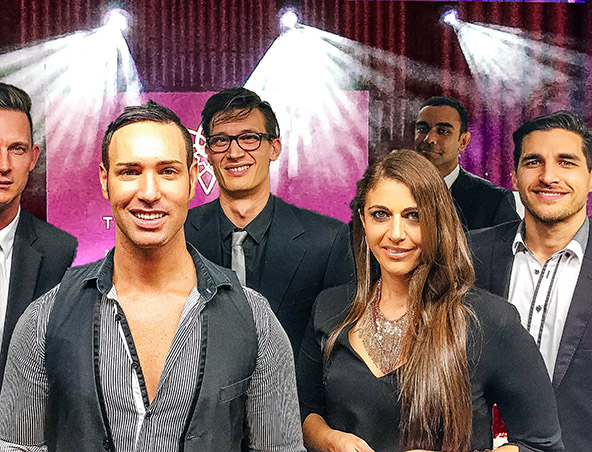 The group is currently working on their latest CD due to be released at the beginning of the summer of 2004. The prerelease is currently available. Their new project is a compellation of original creations and new renditions of some classics. This is a group of anointed, educated singers, ministers, business executives, producers, songwriters and youth mentors. Most of all these young men are SOLD OUT for Jesus!
They have gained national attention with their television performances on networks such as B.E.T. (Black Entertainment Television), Angel Network, Odyssey Network, and TBN (Trinity Broadcast Network). The group continually gives outstanding performances in parks such as Disney World, Six Flags Over Georgia, and Kings Dominion. Their resume includes venues within the U.S. and abroad.
Their style is popular  and their message is the uncompromising message of and about Jesus Christ. The group is not simply musicians and singers. This is a group of Spirit-filled, professionally trained ministers of music and the Word similar to wedding bands Melbourne . All of their concerts are ministry oriented. They aim to please the Lord in all that they do. The group of young men are eager to spread the Gospel nationally and internationally.
Arcelious "Daha" Harris
Arcelious "Daha" Harris is 16 and the youngest member of A-7. He is a junior at Christian Way Academy in his hometown of Manchester, GA. Daha is a highly talented, stick-flipping drummer, having begun his musical journey at the age of 7. His skillful mastering of the drums has electrified audiences everywhere A-7 have performed.
Alonzo Harris
As a junior and creative music technology major at LaGrange College, Alonzo Harris keeps busy. This 20 year old splits his time between his academic duties, the studio, and his home church, where he serves as music director. Alonzo is a lyricist and composer of both popular and classic musical pieces.
Alexander "LX" Harris
The driving force of A-7 is no doubt lead singer Alexander "LX" Harris. At 22, this young man possesses a rich golden voice that stirs the souls of all those who hear him sing. His polished lyrical styling and dynamic energy transcends all genres. Alexander is a classically trained singer and has toured, singing songs such as O'l Man River from Broadway's Riverboat. He is also a winner of the NATS award for singing classical music.
Andronicus "Duke" Harris
The group's electric guitarist and bass player is 26-year-old Andronicus "Duke" Harris. With skillful ingenuity, Andronicus adds distinct flavor to the group's production. Andronicus is 1996 graduate of Christian Way Academy
Antipas Harris
Adding to this multi-talented crew is Antipas Harris. Antipas serves as associate pastor (on educational leave) at A House of the Living God, his home church. He has a sincere heart for ministry and is open hearted to all people
Antonio "T" Owens
Completing the smooth sounds of A-7 is Antonio "T" Owens. Antonio's strong tenor voice along with four-part harmonies, irresistible melodies, and unbelievable hooks add rich flavor to A-7 already unique sound. As well as being a singer, Antonio is an educator and a youth minister, where he mentors and counsels high school and college age students.